I don't watch award shows. I think they're pompous, boring, and much much too long. But I do like the red carpet events that take place before the shows. After that, I usually click onto something far more interesting, like Spongebob Squarepants...
Last night's event was no different, in fact, once I found out that the Transformers movie was on, that was it. I was off to cheer for Optimus Prime and the rest of the Autobots.
So my information on the 68th Annual Golden Globes is completely derived from
E!News
this morning. In celebration of Martin Luther King's birthday, I get to add one more day to my long weekend, so here I am at ye ole' keyboard, banging out my thoughts on red carpet trends.
This year the red carpet went green...literally. In a sea of black and neutrals, this was a welcomed change. My favorite was Catherine Zeta Jones, who looked fabulous in a Monique Lhuillier emerald gown and extremely happy with the news of husband Michael Douglas being cancer free. Good for them!
Okay, enough chitchat. I'll let the fashion speak for itself. Enjoy and Happy Monday!
Elizabeth Moss in Donna Karan
Photo courtesy of HFPA-Photo Gallery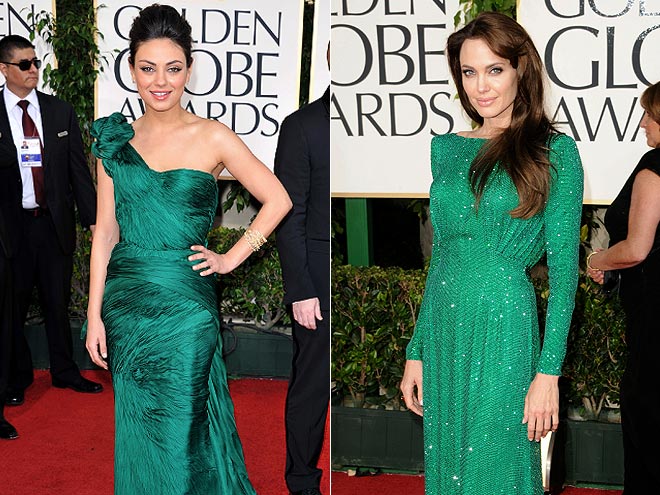 Mila Kunis in Vera Wang and Angelina Jolie in Versace
Photo courtesy People
Catherine Zeta Jones in Monique Lhuillier
photo courtesy examiner.com
Gotta have shoes...
Photo courtesy of HFPA photo gallery
And now for my pick of best of the evening...drum roll please...
Photo courtesy of Just Jared
I know, it's not green, but Jennifer Lopez is simply stunning in this beautiful white Zuhair Murad gown covered in crystals!